E-mail:
see@rt-int.dk
Tesdorpfsvej 31
DK-5000 Odense C
Rhinower Strasse 10
D-10437 Berlin
Welcome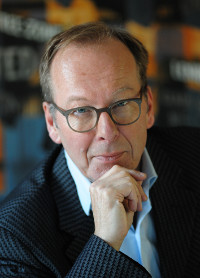 I have worked in the international arts and cultural scene for the last 30 years. As secretary general of the Aarhus Festival for 10 years I co-produced and presented a host of the most important Danish and international artists in the field of theatre, dance, performance, music, music theatre and visual arts.

I also involved the city of Aarhus' inhabitants in an array of out-door activities. From 1996 on centered around 'Universe' – a renowned tent structure designed by Asymptote from New York.

During the first 5 years of this century I initiated and designed the bicentenary of fairy tale author Hans Christian Andersen. The world wide celebration reached millions of people and succeeded in refreshing the established view of the renowned writer through new translations, new approaches for schools and reinterpretations by Danish and international artists in all artistic fields.

As director of see@rt I now share my experience in the international arts field as an artistic advisor for theatres, multicultural venues and funding initiatives of the European Commission and the Nordic Cultural Foundation.

Based in Denmark and Berlin and with working relations as far as Beijing I offer my ideas and network for the creation of new works and the exchange of already existing productions around the world.